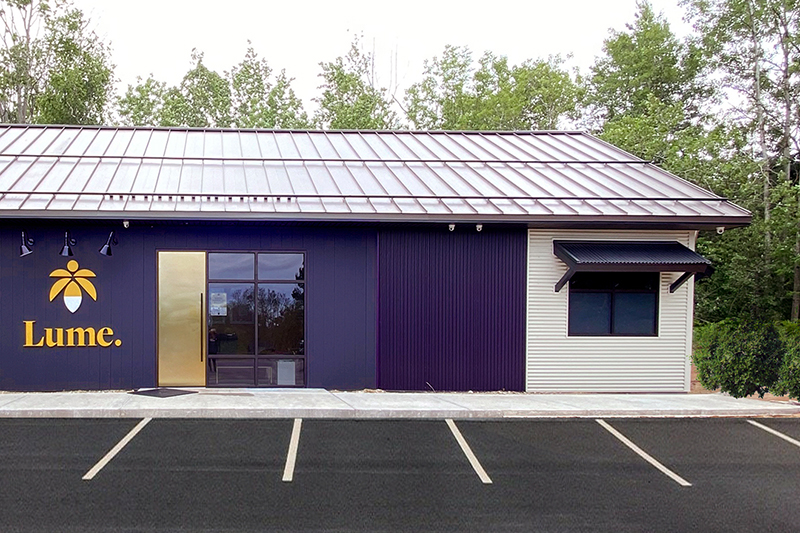 Details

Real Estate
SAULT STE. MARIE, Mich. — A cannabis company is working with two Michigan-based tribes and is involved in active discussions with others to open marijuana dispensaries on trust lands throughout the state.
Troy, Mich.-based Lume Cannabis Co. announced last week that it had received state licensing for a retail dispensary on land held in trust for the Sault Ste. Marie Tribe of Chippewa Indians in Sault Ste. Marie, Mich., a small city in Michigan's Upper Peninsula. The project follows the opening this month of retail stores near Petoskey and in Mackinaw City on trust lands for the Little Traverse Bay Bands of Odawa Indians.
Joel Schultz, executive director of Sault Tribe Economic Development, said the deal gives the tribe a "safe" way to get involved with the cannabis industry as a landlord.
"When legalization was taking place — and our tribe decided to legalize as well — they tasked me with saying, 'What out there? How can we make money in this? What can we do?'" Schultz said. "The challenge was, it's a complicated industry."
Schultz estimates that after Michigan voted to legalize the adult use of marijuana in 2018, he has met with 25 companies or individuals regarding proposals involving cannabis operations.
"We tried to professionally and responsibly look at what we could do to best earn revenue and make sure our area and people were served," he said. "This is what we've started with and think is the best entry into the market, and we're going to see where it takes us."
For Lume, the conversations with the tribes started more than a year ago after an introduction from a common acquaintance, said company President and COO Doug Hellyar. The talks soon focused on finding ways for the tribes to participate in the industry.
"We were able to say, 'If we can open on tribal land, then we'd be happy to open a store,'" Hellyar said, adding the company typically invests about $1 million into each retail location and hires 15 to 20 employees.
'Tough topic'
The Sault Tribe will benefit financially from the long-term lease Lume signed for the store, which will be built on a formerly vacant piece of land, Schultz said. He added that the tribe is working with Lume on leases for five additional dispensaries throughout its seven-county service area, which spans a significant swath of the central and eastern Upper Peninsula.
"There are some impressive, capable people within that organization that could assure us they were going to do it in a professional, classy manner and that we were going to be safe and we were going to provide our people and the community with a responsible, quality product," Schultz said. "And it provided us with pretty good revenue on land that we didn't necessarily have other options for at that point."
While the collaboration with Lume is structured in a way that gives the tribe a safe way to participate in the nascent cannabis industry, Schultz acknowledged that the industry itself is a "tough topic" within the tribe.
"It's something that I'd love to get all excited about and say it's all great, but I know depending on who's walking up to me, some want to punch me in the face, some want to say 'way to go,'" he said. "It's a politically charged topic."
Additionally, some tribal members were upset that Sault Tribe Economic Development brought in a non-tribal company instead of working with a tribal member to launch a marijuana business.
"We would have loved to see a tribal member be the one impacting the industry, and we still will look for opportunities to do that. There's nothing that says this is the only thing we do. It's just that the more you look at the industry, the more you see it's a big money, big player industry," Schultz said. "For us to introduce ourselves to the industry, it was 'let's do it with the professionals, the best of the best,' and then let the future bring what it will bring."
Leveraging sovereignty
The Michigan law legalizing cannabis for adult use allows local municipalities to opt out of allowing marijuana-based businesses within their boundaries. However, by locating dispensaries on sovereign tribal lands, which do not fall under the purview of state and local laws, Lume has essentially found a workaround to the local restrictions.
To that end, the company's stores in Sault Ste. Marie, Mackinaw City and Bear Creek Township near Petoskey each are located in municipalities that have opted out.
"They are allowed to do what they want and we understand that," Patrick Wyman, village manager in Mackinaw City, told the Petoskey News-Review.
That advantage of doing business in Indian Country comes despite the fact that the tribes in Michigan were largely shut out of the rule-making process for adult-use marijuana, Schultz said.
"One of the things that's disappointing is that the tribes weren't at the table with the state of Michigan," he said, noting the process offered "no consideration" for the tribes. "There wasn't a strong outreach to the tribes to see what their needs were or how they could participate."
While marijuana remains listed as a Schedule 1 controlled substance under federal law, the Department of Justice in 2014 issued a policy statement noting that it would treat marijuana legalization in Indian Country the same as it does in states that have decided to relax or remove restrictions on the drug. The DOJ can still prosecute marijuana-related crimes in Indian Country, but prioritizes prevention in eight key areas, including sales to minors, drug cartels, violence, trafficking, drugged driving and the use of federal lands.
The Sault Tribe voted in 2019 to legalize the adult use of marijuana on its reservation, mirroring state law.
Growth plans
Lume, a vertically integrated cannabis company that sells a range of marijuana and CBD products, also will give preference to hiring tribal members. Hellyar said the company plans to build out the additional stores on Sault Tribe land in 2021 and 2022.
The expansions are part of the company's aggressive plan to open 100 stores in Michigan by 2024. It currently operates 10 stores across the state.
As Lume's work in Indian Country became public, Hellyar said he heard from other tribes interested in working with the company on their reservations.
"We are actively in development with other tribes at this time," he said. "As you can imagine, the word spreads and they get curious."