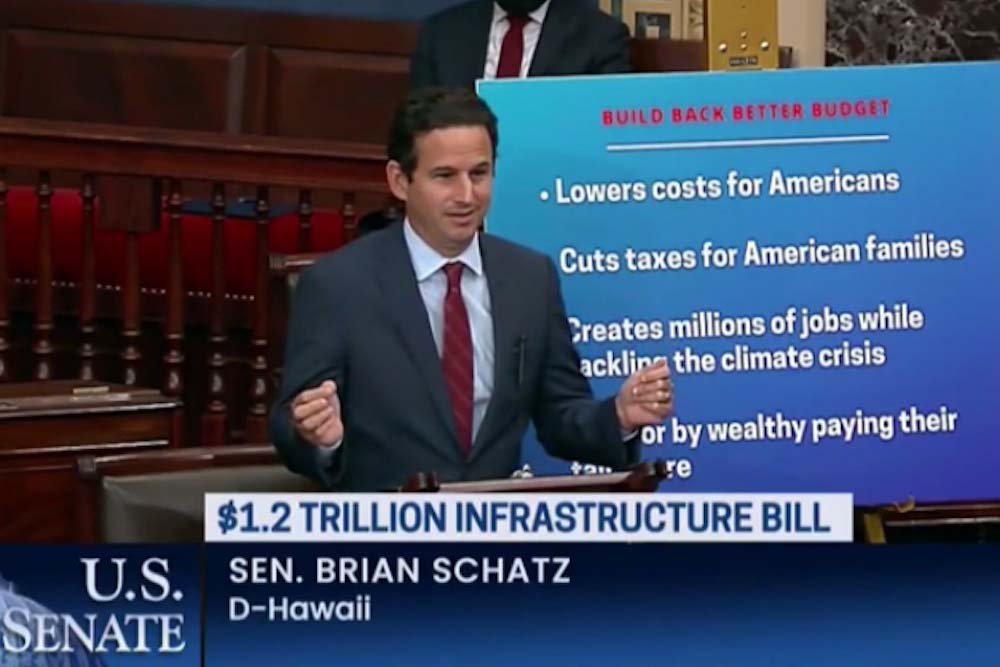 Details

Economic Development
WASHINGTON — A group of tribal leaders and Native American entities are calling on Congress to set aside at least $105.5 billion for tribal infrastructure, both physical and social, as part of the ongoing Democratic budget reconciliation negotiations.
Native-serving federal programs are already budgeted to receive $20.5 billion under a broad framework released Aug. 9 by Senate Majority Leader Chuck Schumer, D-N.Y. The Senate also passed more than $11 billion in hard infrastructure money for tribes in its bipartisan Infrastructure Investment and Jobs Act on Aug. 10, which the House has yet to act on.
Many tribal leaders and advocates say that the proposed reconciliation amount is not enough, given the historical underfunding of Indian Country and long ignored treaty and trust responsibilities.
They have calculated that they should receive an additional $85 billion on top of the $20.5 billion, amounting to $105.5 billion for Indian Country overall. There are 574 federally recognized tribes and nearly 10 million self-identified American Indians and Alaska Natives in the U.S., according to 2020 U.S. Census Bureau numbers.
Tribes say their portion of the $3.5 trillion reconciliation legislation should include money not just for Interior, where tribal programs have typically been housed by the federal government, but also for Natives served by all other federal agencies, including the Departments of Health and Human Services, Agriculture, Justice, Housing and Urban Development, the Environmental Protection Agency and more.
"Chronic underfunding in Indian Country has left hard infrastructure non-existent or crumbling," wrote several tribal leaders in an Aug. 6 letter sent to Schumer and Senate Minority Leader Mitch McConnell, R-Ky. "To begin to chip away at that persistent deficit, grown over 200 years, Indian Country needs additional dollars, a veritable Marshall Plan for tribes."
"This is especially true for rural and remote tribes, due to significant climate change challenges and infrastructure costs often more than double those typically experienced elsewhere," they added.
The leaders wrote that "as recommended in the bipartisan coronavirus recovery discussions over the last year, there should be a minimum 5.5 percent tribal set-aside."
They say that percentage, which amounts to over $85 billion, should include a minimum commitment of $5 billion for reservation hospital and health clinic replacement and repair; $7 billion for water, wastewater and sanitation; and $10 billion for energy infrastructure.
Half of the reconciliation budget is currently tax provisions, none of which apply to tribes. So tribal leaders are only using new funding, which amounts to $1.7 trillion of the overall $3.5 trillion, to make their case.
They are also asking Congress to establish a tribal infrastructure "czar" to coordinate federal agency efforts and to provide an annual report to Congress on the implementation of the potential set-aside.
The signers of the letter call themselves the "Tribal Anti-Poverty Alliance" and purport to represent Native Americans of the Great Plains and Rocky Mountain tribal nations and citizens of Alaska Native Villages. They are:
• Chief Elizabeth Dana of the Passamaquoddy Tribe
• Nita Battise, tribal chairwoman of the Alabama-Coushatta Tribe
• Dennis Ramirez, chairman of the Mechoopda Indian Tribe of Chico Rancheria
• Chairman Joseph James of the Yurok Tribe
• Chairman Manuel Heart of the Ute Mountain Ute Tribe
• Andrew Werk, Jr., president of the Fort Belknap Indian Community Council
• President Marlon White Eagle of the Ho-Chunk Nation
• Emmanual Baker, first chief of the Mentasta Traditional Council
• Jason Ramos, tribal administrator and CEO of the Blue Lake Rancheria
• Amber Torres, tribal chair of the Walker River Paiute Tribe
• Norma Contreras, tribal council chairwoman of the La Jolla Band of Luiseno Indians
• Nick Tilsen, president and CEO of the NDN Collective, and
• Chairwoman Cheryl Andrews-Maltais of the Wampanoag Tribe of Gay Head (Aquinnah).
The Great Plains Tribal Chairman's Association Inc. also signed on to the letter.
Lael Echo-Hawk, a tribal lawyer with Washington, D.C.-based MThirtySix PLLC, noted that the $20.5 billion already laid out in the Senate framework is "historic." She said that a group of tribes is drafting a separate letter asking the Senate Committee on Indian Affairs to hold roundtables to gather input from Indian Country before setting out specific funding directives.
Echo-Hawk said tribes are also likely to make their case for a 5-percent funding set-aside across all federal agencies. Both Hawaii Democrat Sen. Brian Schatz, chair of the Senate Committee on Indian Affairs, and Alaska Republican Lisa Murkowski, vice chair of the same committee, have previously advocated for a similar set-aside.
The Senate's general plan for the $20.5 billion to date is to fund Native health programs and facilities, Native education programs and facilities, Native American housing programs, Native energy programs, Native resilience and climate programs, BIA programs and facilities, Native language programs, and a Native Civilian Climate Corps, according to Schumer's Aug. 9 memo.
Manu Tupper, a spokesman for Schatz, told Tribal Business News that although much of the $20.5 billion "will likely go towards Native-serving programs at Interior, our instructions can provide money to Native-serving programs outside of Interior as well."
Tupper said that other committees' instructions beyond the Senate Committee on Indian Affairs "could include funding for Indian programs too outside of our committee's $20.5 billion."
He added that no set-asides for tribes other than the $20.5 billion have been explicitly approved to date, "but could be worked on during the coming weeks."
With all kinds of money being discussed but nothing certain, Echo-Hawk cautioned that tribes have to remain vigilant and in constant contact with their congressional delegations, providing them with concrete suggestions and examples for the need and planned use of infrastructure funds.
"But it is hard right now," she noted. "The pandemic isn't going anywhere, agencies are still conducting consultations on deployment of ARPA money, and tribes are working to develop programs to allocate CARES/ARPA/infrastructure and what we anticipate in the budget reconciliation. There is a lot going on."
Echo-Hawk said it is important for tribes to be constantly messaging their priorities to the Biden administration.
"You saw the impact (the administration) had in the development of the infrastructure bill, and they are going to be just as involved in budget reconciliation," she said. "This is a great opportunity, and we have good support in both chambers and at the administration if we stay on their radar."
The House is scheduled to return from recess on Aug. 23; the Senate is scheduled to be back on Sept. 13. Majority Leader Schumer has said he wants the reconciliation bill ready the week they return. It will take all 50 Democrats to pass, as no Republicans are expected to join.
--
EDITOR'S NOTE: Tribal Business News will have continuing updates about the plan and its effects on Native America as it progresses.
Want more news about the $130 billion tribal economy?
Tribal Business News publishes thoroughly reported and well-crafted stories about Native businesses and entrepreneurs, growth and expansion strategies, best practices, economic data, government policy and other relevant business news. Tribal Business News is required reading for tribal council members and leaders of Native businesses, as well as state and federal legislators, policymakers, economic developers, entrepreneurs, bankers, lawyers and anyone interested in doing business in Indian Country.
Sign up for our free newsletter to track Native business and the tribal economy. Or sign up for a discounted subscription ($99/year — use coupon code "TBN21") to gain full 24/7/365 access to our business news reporting. Megwetch.