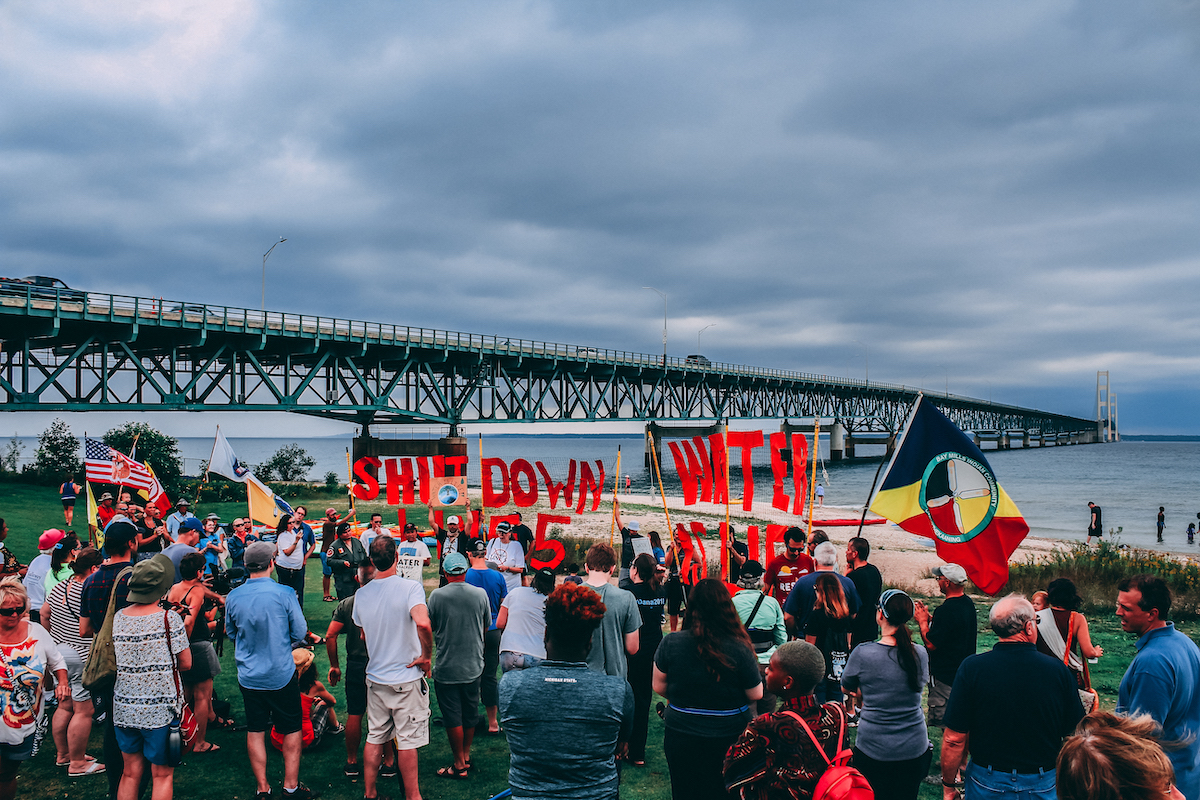 Details

Economic Development
WASHINGTON — The Canadian government's invocation of a 1977 treaty between the United States and Canada in an attempt to move forward with a northern Michigan pipeline project is causing alarm for tribal leaders. The reason: Tribal officials say they have the higher ground on treaty issues.
Tribal concerns center on Canada ignoring possible superseding tribal-U.S. treaties, with tribal officials stating that the Biden administration is obligated to act in favor of tribal treaty rights because of federal trust obligations to tribes.
Tribal leaders also have questions involving Dentons, the multinational law firm handling the treaty invocation on Canada's behalf. The firm represents at least one tribe with legal issues related to the pipeline in question, according to the firm, yet the firm denies having any conflicts of interest.
On Oct. 4, a lawyer for Canada referenced in a letter to the U.S. District Court for the Western District of Michigan the Canadian government's invocation of a 1977 treaty between the two countries.
The letter and related legal filings did not mention that tribes on both sides of the U.S.-Canada border also have treaty claims going back almost two hundred years.
According to Canada's invocation, the Canadian government believes its treaty prevents the United States and/or Michigan from stopping a large Canadian energy company's proposed pipeline reconstruction project through the Straits of Mackinac.
Enbridge, the company at the forefront of the treaty issue, wants to restore and move its Line 5 pipes that have been in place without tribal authority since the mid-1900s in the waters between the Upper and Lower Peninsula of Michigan. The pipeline carries oil and natural gas liquids. Enbridge spokesman Michael Barnes says it is "a critical source of energy for the Great Lakes region on both sides of the Canadian-U.S. border."
According to legal observers who represent tribal interests, Canada's intention for invoking the 1977 treaty is to get the U.S. State Department engaged on the matter and to perhaps approve the project against the wishes of tribes and Michigan Gov. Gretchen Whitmer, a Democrat who has been staunchly opposed to the project. It's unlikely to happen, especially in the short term, but it does add a new wrinkle of uncertainty, legal experts say.
The State Department is reportedly in the process of reviewing the Canadian government's assertion.
'We have our own treaties'
That tribes — who are intimately familiar with American treaties — were ignored in the filing was immediately apparent to several tribal leaders in Michigan, who expressed dismay at Canadian Prime Minister Justin Trudeau's action.
Trudeau famously has a tribally-inspired tattoo on one of his arms, and he says he supports First Nations, but he has been criticized by some Indigenous people on economic, cultural and environmental issues since being elected in 2015. He recently apologized for going on vacation on Canada's first National Day of Truth and Reconciliation, held on Sept. 30, which was aimed at honoring First Nations survivors of residential schools.
"Tribal nations' treaty rights in the state of Michigan predate and supersede any of Enbridge's interests, including any rights the government of Canada or Enbridge may claim are vested by treaties, easements and their subsequent orders," Whitney Gravelle, president of the Bay Mills Indian Community in the Upper Peninsula of Michigan, told Tribal Business News.
"We hear time and time again, under the Constitution treaties are the supreme law of the land, yet it is well past time our treaties with the United States be treated as such," she said.
Three other tribes in the region, including the Little Traverse Bay Bands of Odawa Indians, the Sault Ste. Marie Tribe of Chippewa Indians, and the Grand Traverse Band of Ottawa and Chippewa Indians, joined Bay Mills in decrying Canada's effort.
"As Tribal Nations, including those of us with treaty rights in the Straits of Mackinac, we are deeply dismayed by the Government of Canada's attempt to use a 1977 pipeline treaty to thwart the protection of the Great Lakes and the preservation of our own treaty rights and way of life," the tribes said in a joint statement.
"While Canada points to the 1977 treaty, we have our own treaties that predate this treaty by more than 100 years," the tribes continued. "The promises of these treaties have too often been broken, but we are still here today to fight for their vindication. We call on the Biden Administration to honor its commitment and stand with the tribal nations in our fight to protect the Straits of Mackinac."
The tribes all highlight the 1836 Treaty of Washington as being of superior importance.
That pact, Gravelle said, "legally obligated" the United States and the state of Michigan "to honor the treaty by ensuring treaty rights remain meaningful and available to Tribal Nations, such as by guaranteeing tribal members continued access to waters and lands where they hold rights, as well as by preserving the resources — like fish populations and habitats — upon which the treaty rights depend."
Aaron Payment, chairperson of the Sault Ste. Marie Tribe of Chippewa Indians, called Canada's treaty invocation "hypocritical."
"It seems like we're going to get into an international treaty fight," Payment told Tribal Business News. "It's really disappointing that Prime Minister Trudeau has completely abandoned both his environmental stance and his relationship with the tribes."
"I don't see how President Biden, with his commitment to the government-to-government relationship, could look to the Canadian treaty rights without looking to the tribal treaty rights," Payment added. "He's been silent so far on our rights. If the president is pulled into a treaty rights conversation, then I think he should be aware that respect for our sovereignty should include pulling in the tribal treaty rights as well."
One implication of Canada's invocation of its 1977 treaty with the U.S. is that the Canadian government believes that its treaty should subvert the tribes' treaties, according to Debbie Chizewer, the managing lawyer for the Midwest office of Earthjustice, which represents Bay Mills.
But Chizewer told Tribal Business News that this notion is wrong.
"There are other treaties here," Chizewer said, pointing specifically to the 1836 Treaty of Washington. "Our clients were signatories to treaties long before the 1977 treaty that protect the territories that were ceded as part of the treaties, and those include the Straits of Mackinac where the pipeline is. We will hold the state and the federal government accountable to honor those treaty rights."
Chizewer said she was "not surprised" that Enbridge and Canada would try to find "creative arguments to continue the operation of fossil-fuel infrastructure." No one has said that one treaty should supersede another treaty in court, but if a legal conflict arose between two treaties down the road, a court could analyze both treaties and come to a determination, she said.
Tribes highlight environmental concerns
Aspects of the pipeline project's permit and application are currently under court review and legal remediation in Michigan. Various court filing deadlines and hearings are coming up throughout the fall and winter.
At the same time, the U.S. Army Corps of Engineers announced in June that it was requiring an environmental impact statement (EIS) to be performed on the federal level for the project to go forward. The EIS process is important, tribal and environmental advocates say, especially because some scientists believe that Enbridge's old pipelines are in danger of leaking. Some have also modelled how the new proposed reconstruction site could cause catastrophe, destroying some or all of the Great Lakes, depending on where and when they were ever breached or leaked. It could take up to two years or more for the EIS to be completed, according to legal observers.
According to historical records highlighted by environmental groups, Line 5 has since 1968 spilled 33 times, and at least 1.1 million gallons have leaked along the length of the pipeline.
Enbridge has always maintained that both the current and proposed pipelines are safe, yet pipelines owned by the company that it has deemed safe have leaked in the past, causing major environmental damage. Its 6B Line leaked into the Kalamazoo River in Michigan in 2010 after a pipeline burst, and the resulting oil spill — one of the largest inland spills in U.S. history — took five years to contain and clean up. In the aftermath, the U.S. Department of Transportation said Enbridge committed 22 probable violations and fined the company $3.7 million. In 2016, the company agreed in a settlement to pay $177 million in penalties to the U.S. Department of Justice and the Environmental Protection Agency.
For its part, Enbridge celebrated Canada's 1977 treaty invocation.
"We greatly appreciate the efforts of 'Team Canada' — from the Government of Canada to the Provinces of Ontario, Quebec, Alberta and Saskatchewan for their commitments and efforts to keep Line 5 open," company spokesman Barnes said via email.
Barnes said that company officials "have spoken with government officials on both sides of the border as the State of Michigan has let parties know it is not committed to further mediation."
"Enbridge has continued to participate in the mediation process in good faith and still is hopeful that a negotiated resolution will continue to provide consumers and industry in the region with safe, reliable energy and advance the quick construction of the tunnel at the Straits of Mackinac," Barnes added. "Pipelines continue to be a safer, more reliable way to transport fuel than truck, train or barge. These other modes burn far more fuel in order to move it, releasing more greenhouse gases into the environment and would increase safety risk along each of those transportation modes."
Barnes pointed to several instances of the company supporting tribal treaties nationwide, including "buying locally harvested and produced goods such as fish, smoked fish, wild rice (and) wreaths." He notably failed to address Minnesota tribes' ongoing claims of broken treaties regarding Enbridge's Line 3 pipeline expansion in their region.
Law firm's role draws concern
Canada officially filed its Line 5 treaty invocation with the help of Gordon Giffin, a Washington, D.C.-based partner with the Dentons law firm. Appointed as U.S. ambassador to Canada under President Bill Clinton, Giffin is acting as general counsel for the Canadian government in this matter, and the firm at large has represented Canada for some time.
Officials with the firm told Tribal Business News that Dentons represents Canada in the Canadian government's filing of an amicus brief in Michigan v. Enbridge involving the Line 5 pipeline disputes.
Dentons also represents the Grand Traverse Band of Ottawa and Chippewa Indians, according to the firm's lobbying disclosure filings and as noted by the firm when asked by Tribal Business News. That tribe has filed an amicus brief in Michigan v. Enbridge, and unlike Canada, the tribe is firmly opposed to the Line 5 project.
The firm says there is no conflict of interest here because in the amicus brief for Canada involving the 1977 treaty, there is no mention of tribal rights. And, in the amicus brief for the tribe, there is no mention of the Canada-U.S treaty.
"The nature of the two amici's viewpoints don't intersect in any way," Michael Zolandz, chair of Dentons' Federal Regulatory and Compliance practice, told Tribal Business News. "Both amici are addressing the U.S. obligations under their respective treaties. On the face of it, and even in the substance of it, there is not a position by either with respect to rights of the other amicus."
Zolandz, who is also the managing partner for Dentons' D.C. office, further noted that neither the tribe nor the Canadian government are parties to the underlying litigation.
The firm believes the situation boils down to one of potentially negative optics, but it does not think that any conflicts of interest exist in this case.
Beyond the Grand Traverse Band of Ottawa and Chippewa Indians, Dentons represents many tribal clients, and its Native American Law & Policy group has been consistently well-rated in many national surveys. The firm also was recently a top sponsor of this year's National Congress of American Indians annual conference.
Rose Petoskey, a tribal citizen of the Grand Traverse Band of Ottawa and Chippewa Indians, had been Dentons' managing associate in its Native American Law & Policy group until Oct. 1. She will soon join the Department of the Interior as an senior employee working under Assistant Secretary of Indian Affairs Bryan Newland, according to the firm.
There is no connection with Petoskey leaving the firm and the pipeline treaty situation, the firm said.
Petoskey told Tribal Business News via email that she could not comment on the situation.
Sault Tribe Chairperson Payment said that he has been regularly invited by Dentons to join its policy calls, adding that their representation of Canada in this issue seems on the surface to be "concerning and contradictory." He said he plans to reach out to the firm.
'Let's talk treaties'
Dentons has been in the news lately for negative reasons relating to the Fort Sill Apache Tribe's allegations that the firm overbilled it.
"Today, we are suing Dentons for violating its fee agreement and breaching its fiduciary duty to our tribe," Lori Gooday Ware, chairwoman of the Fort Sill Apache Tribe, wrote in a recent op-ed in The Oklahoman.
Gooday Ware told the newspaper in a follow-up article that the firm charged the tribe a $2.6 million legal bill, which she said exceeded their negotiated rate more than four times over.
The firm is rebutting the charges.
"Dentons is committed to its service to Indian Country," a firm spokesperson told Tribal Business News via email. "We respect tribal governments and tribal sovereignty. In our work for the Ft. Sill Apache Tribe we took direction from the Tribe's previous leadership. We respect that the current leadership has a different viewpoint, but the claims are unsubstantiated and we have moved to dismiss the case."
In terms of the firm's Canadian representation, Giffin told Tribal Business News via email that he could not answer whether Canada believes its 1977 treaty with the U.S. supersedes tribal treaty rights involving the Straits of Mackinac.
"I am not in a position to make public comments with respect to legal analysis for the Government of Canada," Giffin said. "All comments would be handled by them."
The Canadian government has not responded to requests for comment on tribal treaties that may be subverted by its treaty involcation, nor on whether it consulted with tribes and/or First Nations in the U.S. or Canada on their treaty rights.
On that issue, Gravelle lamented: "Bay Mills Indian Community has never been invited by the state of Michigan or the government of Canada to discuss treaty issues."
"If they want to talk about treaties, let's talk treaties," Payment said. "Let's have an open, honest discussion."
--
EDITOR'S NOTE: This story has been changed from its original form. It was also updated to correct the spelling of Debbie Chizewer's last name.
Want more news about the $130 billion tribal economy?
Tribal Business News publishes thoroughly reported and well-crafted stories about Native businesses and entrepreneurs, growth and expansion strategies, best practices, economic data, government policy and other relevant business news. Tribal Business News is required reading for tribal council members and leaders of Native businesses, as well as state and federal legislators, policymakers, economic developers, entrepreneurs, bankers, lawyers and anyone interested in doing business in Indian Country.
Sign up for our free newsletter to track Native business and the tribal economy. Or sign up for a discounted subscription ($99/year — use coupon code "TBN21") to gain full 24/7/365 access to our business news reporting. Megwetch.