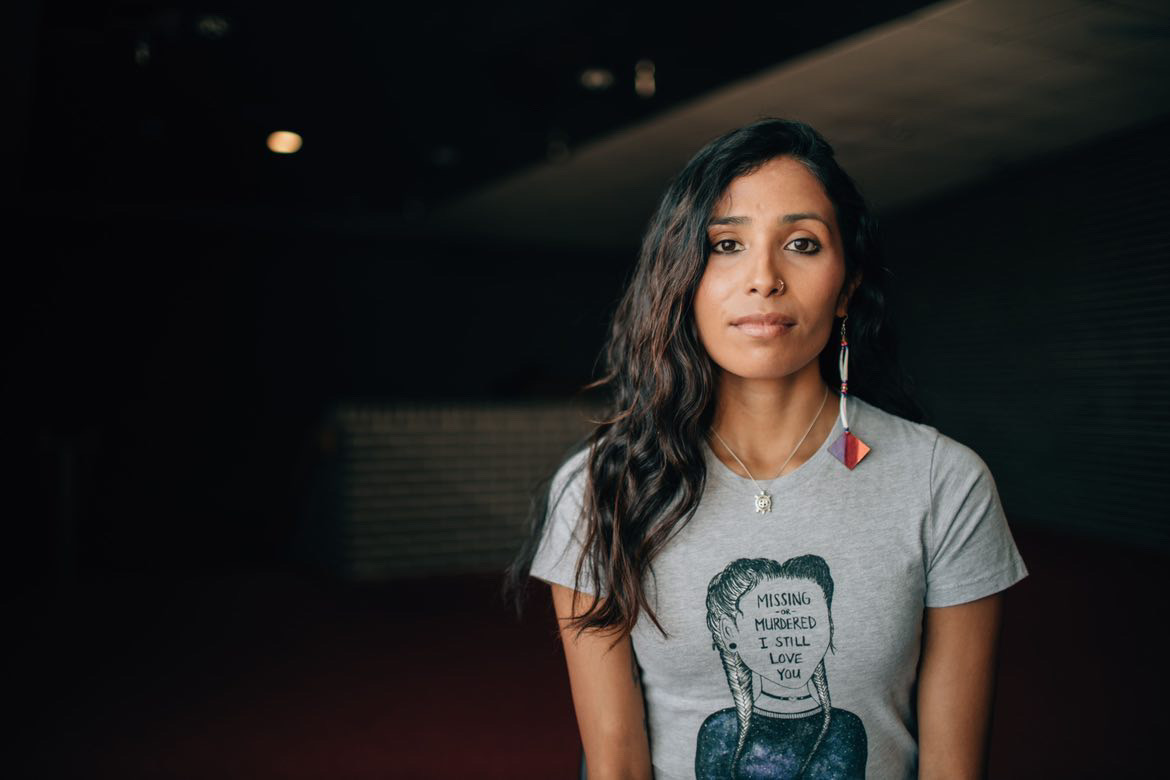 Details

By

Erin Tapahe

Entrepreneurism
LOS, ANGELES, Calif. — Jordan Marie Brings Three White Horses Daniel started the grassroots Rising Hearts organization in 2017 to better give voice to Indigenous communities.
Daniel wanted to uplift Indigenous voices as she helped organize marches, protests and educational panels. All expenses came out of pocket or were covered by fundraising to pay for the cost of supplies, food and drinks needed in organizing a panel, marches or rallies, such as the Native Nations Rise March in March 2017. The event attracted thousands of people from around the world to gather in Washington, D.C. and stand in opposition to the treatment of Native American people.
"(Rising Hearts is) all focused and centered on cultivating community and providing platforms to center and uplift Indigenous communities, frontline movements and their own advocacy while trying to create a virtual space to make sure that community can support them and get to know who they are and be able to invest in these communities for the long haul," Daniel (Lower Brule Sioux Tribe) told Tribal Business News.
Never miss the biggest stories and breaking news about the tribal economy. Sign up to get our reporting sent straight to your inbox every Monday morning.
Daniel eventually moved from DC to the Los Angeles area, where she reorganized Rising Hearts and transitioned into creating more programs like Running with Purpose and Running on Native Lands, and continued advocacy work focused on the environment and the "No More Stolen Relatives" initiative.
"We're all focused on a variety of things, but the most important thing was being able to bring our community along with us," Daniel said.
Rising Hearts fundraises through virtual runs and has raised more than $235,000 to donate to a variety of organizations, individuals, survivors, families and COVID-relief support.
"We're trying to just create more community-centered programs for people to be part of, but also creating a space to welcome allies, non-Indigenous people to the space," Daniel said, noting the goal is to provide "programs with actionable steps forward for how they can be an ally and how they can also help elevate Indigenous voices."
In response to the COVID-19 pandemic, Rising Hearts created additional programs like Indigenous Wellness Through Movement, where participants meet several times a month via Zoom for different workshops like meditation, yoga, pilates and different workshops.
"I just really wanted to help and provide a program but also redefine what wellness looks like because it's become so heavily commercialized," Daniel said.
Daniel prioritizes providing fair compensation to the instructors of these workshops. Although she does not pay herself for the work she is doing with Rising Hearts, Daniel uses the donated money to compensate the instructors, provide scholarships for those who cannot afford the workshops, account for technical fees and lend support to other organizations.
A professional runner with On Running, Daniel also uses her passion to inspire wellness and bring awareness to the Missing and Murdered Indigneous Women and Relatives crisis.
Running is important to many Indigneous communities as a form of practical transportation to ceremonial connections. However, the mainstream running community has a very specific look and receives criticism for highlighting only white and thin athletes.
That's starting to change, as many organizations like Rising Hearts and Native Women Running have started working with big brands like Gu Energy Gels and Amazon to bring visibility to Indigenous athletes.
Additionally, Rising Hearts partners with multiple organizations that promote wellness and Indigenous voices that it in turn uses to support other organizations. For example, with the 2022 Running on Native Lands event, Rising Hearts donated proceeds from the half marathon to Native Women Running.
As Tribal Business News previously reported, Verna Volker founded Native Women Running with the hopes of increasing representation by sponsoring Native women, who face barriers related to the high cost of registration fees and travel expenses.
Since then, Native Women Running has partnered with Amazon to sponsor three Native women — Shayla Manitowabi-Huebner, Samantha Noyce and Angel Tadytin — to run in the 2022 Boston Marathon.
Additionally, Rising Hearts is partnering with GU Energy to sponsor another Indigenous runner in June for the Western States 100-mile Endurance Race in June, which like the Boston Marathon attracts runners from all over the world.
"As Indigenous peoples, we are raised to be very community-based, we're raised to have a holistic lens and we see ourselves as connected to every single thing," Daniel said. "We need to be good relatives to each other and if we're going to have a better and thriving future where our next generations don't inherit this intergenerational trauma, we need to be working collectively together."