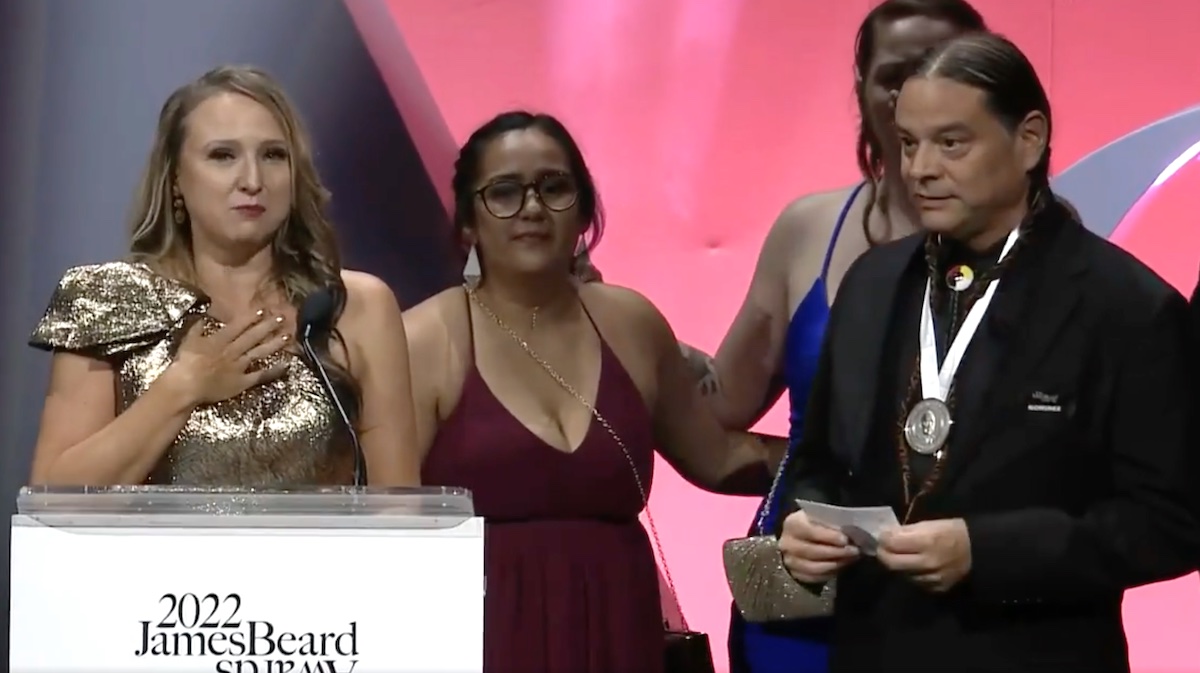 Details

Food | Agriculture
Owamni, an Indigenous-owned restaurant in Minneapolis, Minn., has been named the best new restaurant in the country in this year's prestigious James Beard Foundation awards, which also honored a film involving First Nations Development Institute that was co-produced by Sterlin Harjo of Reservation Dogs fame.
Founded by Sean Sherman (Oglala Lakota), who is known as "The Sioux Chef," and partner Dana Thompson (Mdewakanton Dakota, Wahpeton Sisseton), Owamni opened in July 2021 with a focus on decolonizing foods and sourcing from Indigenous and other BIPOC suppliers. The popular new restaurant took shape during the pandemic in a new facility along the banks of the Mississippi River in Minneapolis and following the civil unrest in the city following the police killing of George Floyd.
In her acceptance speech, Thompson praised the team effort that makes Owamni possible, noting that more than three-quarters of the restaurant's staff are Indigenous people.
"Our ancestors are with us every day in that restaurant," Thompson told the audience at the Lyric Opera of Chicago during the awards ceremony, which the James Beard Foundation streamed live on its social media channels.
Sherman also highlighted the importance of Owamni's staff, and the deep connection the business has with the community.
"When we opened up, we coined the term #86colonialism. It was really a statement," he said, referring to restaurant lingo, where to "86" something means to take an item off the menu.
"People of color from everywhere have been affected by colonialism and we just went through centuries of racist bullshit," he said. "This is showing that we can get through that, that we're still here. Our people are here. Our ancestors are proud tonight because we're doing something different. We're putting health on the table, we're putting culture on the table, and we're putting our stories on the table."
Never miss the biggest stories and breaking news about the tribal economy. Sign up to get our reporting sent straight to your inbox every Monday morning.
Sherman also was one of six finalists this year for best chef in the Midwest. Previously, he received the James Beard Leadership Award in 2019, and his book, "The Sioux Chef's Indigenous Kitchen," won a James Beard book award in 2018.
As well, Sherman and Thompson serve on the leadership committee for the Food and Beverage Investment Fund for Black and Indigenous Americans that the James Beard Foundation launched in 2020, and have been active in the organization's inclusion efforts.
The partners also operate the Native American Traditional Indigenous Food System (NATIFS) nonprofit in Minneapolis.
Additionally, Indigenous chef Crystal Wahpepah, an enrolled citizen of the Kickapoo Nation of Oklahoma and founder of Oakland, Calif.-based Wahpepah's Kitchen, was one of 20 national semifinalists in its Emerging Chef award.
Another Indigenous project, the film Gather, won the 2022 James Beard Foundation Broadcast Media Award in the documentary/docuseries visual media category. The film came about as part of a two-year collaboration between Longmont, Colo.-based First Nations Development Institute and director Sanjay Rawal.
The film was produced by Harjo (Seminole/Muscogee), who also directed the FX hit Reservation Dogs, and Tanya Mellier.
In Gather, the filmmakers examine the role that Native food systems play, chronicle their deliberate destruction and highlight the efforts currently underway to rebuild them in a healthy and sustainable manner.
"This award is an achievement not just for First Nations and Sanjay Rawal, but most importantly for our community partners that are strengthening and advancing Native food systems," First Nations President and CEO Michael Roberts (Tlingit) said in a statement. "Gather is a story that everyone needs to see, and winning this award only increases the impact of this film and its message about the resilience of Native communities."
Owamni's Sherman also encouraged people in the restaurant industry to "support Indigenous initiatives in your communities." He and Thompon both talked about their vision of one day being able to patronize Native-owned restaurants in all corners of the country, but acknowledge it's a mission that faces many challenges.
"We hope that one day we can find Native American restaurants in every single city," Sherman said. "White supremacy does not like being dismantled but we can do it together."