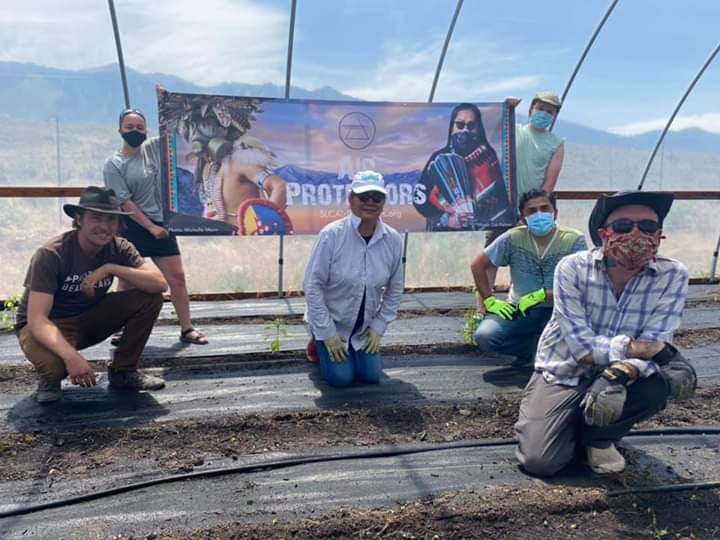 Details

By

Erin Tapahe

Health Care
Utah is widely known for its diverse geography of mountains and deserts that attracts thousands of tourists year round. But the Beehive State also faces many environmental issues related to air pollution.
The American Lung Association's most recent "State of the Air" report from 2021 gave Salt Lake County a Grade F for its high number of ozone action days and its ranking in the top 10 for cities most affected by ozone air pollution from 2017-2019.
In fact, the Salt Lake City-Provo-Orem metropolitan area ranked worse than many major metros, including San Francisco, Las Vegas, New York City, Chicago, Dallas and Washington, D.C.
This notoriety prompted a group of local Indigenous people and activists to form SLC Air Protectors in 2017.
"We came together to protect our home from some of the worst air pollution in the world," said Linda Jim, who goes by L.J. and serves as president of SLC Air Protectors.
Never miss the biggest stories and breaking news about the tribal economy. Sign up to get our reporting sent straight to your inbox every Monday morning.
SLC Air Protectors is a Native American-led nonprofit organization raising awareness of the air pollution crisis in Utah, providing community service and advocating for protections for the natural environment. It's an effort to support the role of Indigenous people as stewards of the land, according to organizers.
Jim (Navajo) said that Indigenous people need to be at the center when talking about protecting the environment because it is ingrained from ancestral teachings and passed to the next generations. Jim remains driven to continue teaching and working to protect the environment for her grandchildren.
"I think our responsibility as Indigenous people is to explain, train and teach whether others listen or not because we need to protect our family," Jim said.
SLC Air Protectors became an official nonprofit organization in 2021 and hosts fundraising events and works on grant writing. The organization has partnered with groups like NavajoStrong, Releaf Utah and Salt Lake Permaculture Guild to continue the work and advocacy for air quality improvements.
Like many organizations, SLC Air Protectors changed its focus to help its Native American community when the pandemic first hit, including organizing COVID-19 relief efforts and making supply runs to local tribal nations in Utah.
"We felt very blessed to be able to help with the food and supply runs for the Navajo families during the COVID crisis along with many other organizations that stepped up to serve," Jim said.
In one example, SLC Air Protectors partnered with the nonprofit NavajoStrong to launch the Red Sand Powwow and the Running as Medicine Prayer Run, which started in 2020. Participants completed a 360-mile run over the span of five days for prayer and healing from the effects of COVID-19. In many Indigenous communities, running is seen as a form of prayer and wellness.
The third annual Running as Medicine Prayer Run will take place from May 10-14. The theme this year is "Healing our Mother, Healing Ourselves." The runners will start at Bears Ears and travel north to Warm Springs, which are important cultural areas for the surrounding tribes.
Looking forward, SLC Air Protectors plans to continue assisting tribal communities. With hopes for the pandemic subsiding, Jim anticipates easing back into an emphasis on the environment.
"We're really excited about what we've done in the past and this year for food sovereignty, traditional farming, prayer runs and air and land protection," Jim said.
As well, SLC Air Protectors and NavajoStrong are expanding their partnership efforts to include a gardening initiative. NavajoStrong is considering a gardening project for elderly residents on the Navajo Reservation to have access to nutritious food, social connections and self-sufficiency.
"We hope providing some garden boxes will be a fun and healthy way for elders to connect socially at a senior center, as well as enjoying the process of gardening and feeling that connection to plants," Gretchen Willard, program manager at NavajoStrong, said in an email to Tribal Business News.
As well, SLC Air Protectors also is focusing on food self-sufficiency via the gardening initiative. The organization is providing $2,000 in grants to two tribal nations in Utah and 10 microgrants of $200 to people in the state who want to start a garden or have an existing garden.
While COVID forced SLC Air Protectors to change direction to some extent, the organization has increased its base of supporters and is brainstorming ideas for future projects to shed light on air pollution.
Jim encourages others to look within their communities for ways to learn about their heritage, improve air quality and work toward self-sufficiency.
"(Native American people) are not needy and we are not frail," Jim said. "We are strong, we are highly educated, and we are highly capable."