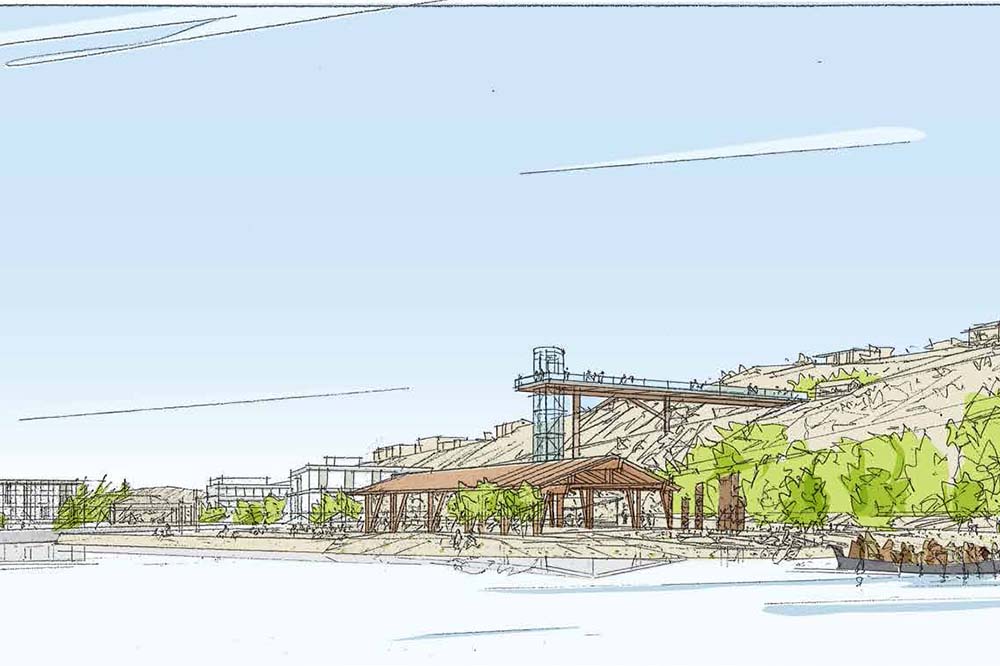 Details

By

Jenna Kunze

Real Estate
WILLAMETTE FALLS, Ore. — The Confederated Tribes of Grand Ronde is going home.
The tribe recently released its plan for reclaiming and monetizing its ancestral homeland, a 23-acre shuttered industrial property at tumwata, or Willamette Falls, that formerly operated as Blue Heron Paper Mill. The visioning document includes a river walk, habitat restoration, and mixed-use development with leasable space for potential hotels, offices or housing.
The area was historically home to tribal people — the village of the Clowewalla (Willamette Band of Tumwaters) and the Kosh-huk-shix Village of Clackamas people — until the federal government forcibly relocated them and others in 1855 to the Grande Ronde Indian Reservation, about 70 miles southwest.
The Confederated Tribes of Grand Ronde — composed of more than 30 bands and more than 5,500 enrolled members from western Oregon, northern California, and southwest Washington — purchased the land back in 2019.
Tribal Council member Kathleen George said the reclamation plan has been a long time coming.
"The restoration of this special, powerful place at tumwata, Willamette Falls, means coming home to a place of our ancestors," George told Tribal Business News. "It means a restoration and healing of the land there, and our relationship with a river and the falls. And I truly believe that that is healing for our people, too."
Since purchasing the site, the tribe has started environmental remediation and consultation with the Oregon Department of Environmental Quality, George said. The paper mill, which closed in 2011, has withstood over a century of environmental challenges, including habitat and water quality degradation — which has decreased spawning salmon numbers — polluted soil, and hazardous building materials, according to the visioning document.
Although some buildings will be repurposed for new uses, the tribe expects to demolish a majority of the site and build anew. George said the tribe envisions the final site plan will focus on being a communal meeting place that is both restorative and healing, as well as economically generative for the tribe.
"We definitely see a place for economic development at that site and we definitely want to invite Oregonians and visitors back to that place that has been so difficult for people to even see, and to come and appreciate the falls," she said. "While this visioning document is an early stage of planning, it does envision options like a hotel, or an event space … restaurants, maybe some shopping, some office space, maybe the opportunity for nonprofit offices. We definitely want to see a mixture of those uses and potentially housing there, as well."
The new economic opportunities will provide jobs for tribal members, as well as diversify the tribe's economic investments. Currently, its largest business venture is Spirit Mountain Gaming Inc., a casino in Grand Ronde the tribe owns and operates. Additionally, the Confederated Tribes of Grand Ronde have opened an opioid treatment clinic in Salem, Wash. for both tribal and non-tribal members, and pursued investments in private real estate.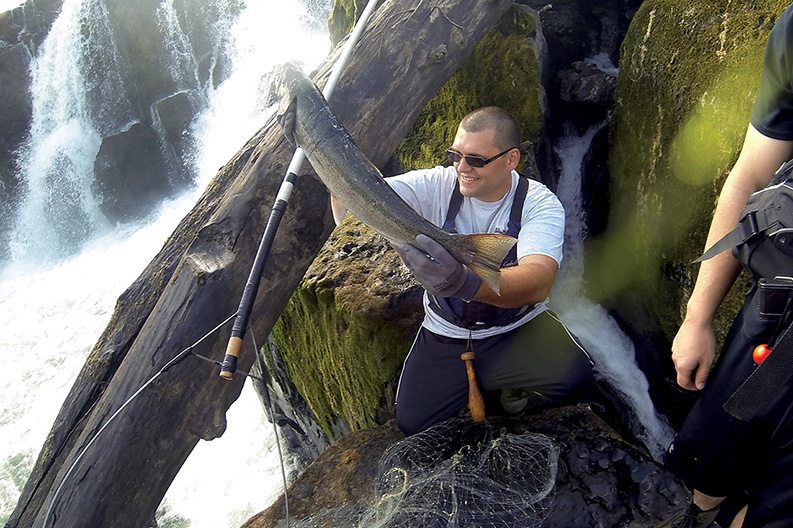 Andrew Freeman, a member of the Confederated Tribes of Grand Ronde, fishes for salmon at a ceremonial site at Willamette Falls.
George said the tribe hopes to translate its initial vision for the site into a master plan by the end of the year, including shoring up which private investments it wants to pursue. Currently, the tribe is finalizing the demolition plan for the site. Moving forward, the tribe expects to complete the project in multiple phases of redevelopment.
This project is part of the tribe's ongoing efforts to connect its people to their homelands, George said.
Over the last five years, the tribe has worked with the state of Oregon to restore its ceremonial fishery and fishing platform at Willamette Falls. A once robust salmon population that previously migrated past the falls has gradually diminished in correlation with retreating off-channel alcoves that "create quiet resting places for migrating salmon," according to the visioning document.
"When I use the word ceremonial fishery, it is because we specifically wanted to not take very many fish," she said. "We wanted to just take fish sufficient to restore our traditional role at the falls, which is to say that we could celebrate the first salmon return to the falls like our ancestors did, bring community together around that salmon, share that salmon with the people, and then restore the bones of that salmon to the river so that its spirit could go and tell the other salmon that 'these are good, respectful, appreciative people here, this is a good place to come.'"
Since you're here.
Doing business anywhere is a challenge, but it's even more challenging in Indian Country. Tribes and their citizens face unique obstacles as they try to build Native-owned enterprises: the patchwork of federal laws, bureaucratic red tape, limited access to capital and the fact that most people are unfamiliar with what's involved in operating a business in Indian Country.
We believe Tribal Business News can help remove some of those hurdles by highlighting what tribes and Indigenous business owners are doing to build the tribal economy. We're committed to bringing you thoroughly reported and well-crafted stories about Native entrepreneurs, M&A, expansions, best practices, economic data, government policy and other relevant business news. Our goal is to make Tribal Business News required reading for tribal council members and leaders of Native businesses, as well as state and federal legislators, policymakers, economic developers, entrepreneurs, bankers, lawyers and anyone interested in doing business in Indian Country.
Hopefully, you'll consider supporting Tribal Business News through a discounted subscription ($99/year — use coupon code "TBN21") or a donation to help fund our reporting. Sign up for our free weekly newsletter that comes out each Monday morning.
Megwetch for your continued support.