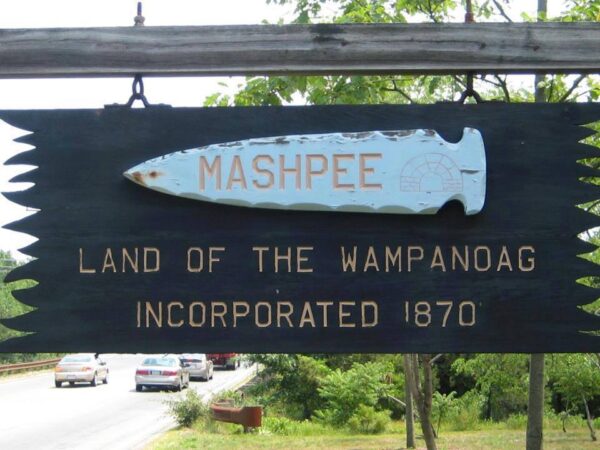 Details

By

Jenna Kunze

Sovereignty
The U.S. Department of the Interior on Friday dismissed its appeal in the Mashpee Wampanoag Tribe's land-to-trust case, effectively recognizing the sovereignty of the Massachusetts-based tribe that's occupied its land in Cape Code for more than 12,000 years.
In a statement, Mashpee Wampanoag Tribe Vice Chairwoman Jessie Little Doe Baird praised the decision as "a triumph not only for our Wampanoag Homelands, it is also a triumph for the citizens of the Mashpee Wampanoag Tribe and our Ancestors who have fought and died to ensure our Land and sovereign rights are respected."
"We look forward to being able to close the book on this painful chapter in our history," Little Doe Baird wrote.
The tribe's back and forth with the federal government began in 2015 when the Interior Department approved a 321-acre land-to-trust application, including acreage in Taunton, Mass. where the tribe intends to build a casino. That decision was reversed three years later under the Trump administration, which argued that the tribe was not federally recognized at the time of the Indian Reorganization Act.
The tribe appealed, but the decision to take the land out of trust was upheld until last year when a U.S. District Court judge ultimately ruled in the tribe's favor. At the time, the Department of the Interior said it would appeal the decision.
Now, Mashpee Wampanoag spokesperson Steven Peters told Tribal Business News the tribe's priority with its newly stable sovereignty is to focus on strengthening its language immersion school and health services.
"That's something that's really been in jeopardy since the previous administration challenged our land-to-trust," he said. "That's our number one priority."
Since 2016, the tribe has been planning to develop a $1 billion casino, hotel and entertainment complex to generate revenue. However, Peters said the development process is on hold while the Department of the Interior draws up a new record of decision based on the 2020 District Court ruling.
The tribe's First Light Resort & Casino in Taunton originally was going to be backed by a Malaysian-based investment holding company, but those plans were stalled by the federal action to remove sovereignty under former president Donald Trump, who has known ties to nearby competing casinos in Rhode Island.
"There's still other things that have to take place before we even sit down and can really start to think about where we want to go next with our economic development," Peters said. "Right now, our tribes' focus is absolutely 100 percent on securing our land base (and) strengthening our culture, our traditions, our heritage that rely on that land that we live on."
U.S. Rep. Deb Haaland (D-N.M.) — who President Biden nominated for Secretary of the Interior and who faces a Senate confirmation hearing today — has played a major role in defending the Mashpee Wampanoag's tribal sovereignty.
In July, three members of the Massachusetts congressional delegation, Rep. Joe Kennedy, Rep. Bill Keating and Rep. Lori Trahan, all Democrats, introduced an amendment along with Haaland imposing a one-year moratorium on the Interior Department from spending any funds to take the Mashpee Wampanoag Tribe's land out of trust.
"From our perspective, she has been a tremendous champion for tribal sovereignty and protecting our tribe's land base," Peters said of Haaland. "We're extraordinarily grateful to have her in our corner. She's a great asset for Native Americans in this country."
The Department of the Interior did not respond to a request for comment.
Since you're here.
Doing business anywhere is a challenge, but it's even more challenging in Indian Country. Tribes and their citizens face unique obstacles as they try to build Native-owned enterprises: the patchwork of federal laws, bureaucratic red tape, limited access to capital and the fact that most people are unfamiliar with what's involved in operating a business in Indian Country.
We believe Tribal Business News can help remove some of those hurdles by highlighting what tribes and Indigenous business owners are doing to build the tribal economy. We're committed to bringing you thoroughly reported and well-crafted stories about Native entrepreneurs, M&A, expansions, best practices, economic data, government policy and other relevant business news. Our goal is to make Tribal Business News required reading for tribal council members and leaders of Native businesses, as well as state and federal legislators, policymakers, economic developers, entrepreneurs, bankers, lawyers and anyone interested in doing business in Indian Country.
Hopefully, you'll consider supporting Tribal Business News through a discounted subscription ($99/year — use coupon code "TBN21") or a donation to help fund our reporting. Sign up for our free weekly newsletter that comes out each Monday morning.
Megwetch for your continued support.