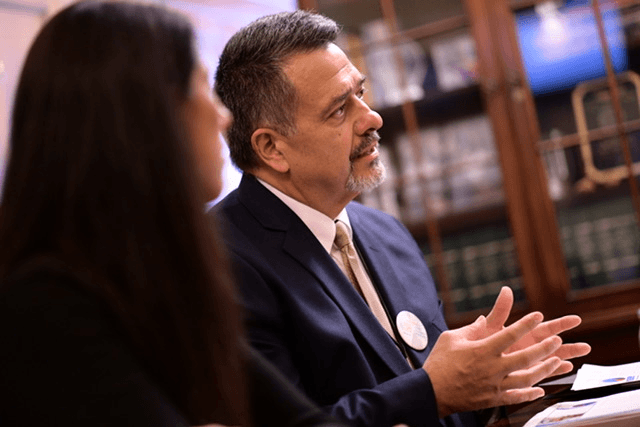 Details

Finance
WASHINGTON, D.C. — A Native community development financial institution executive was among 16 leaders to join in a discussion with President-elect Joe Biden's incoming team at the Department of the Treasury.
Treasury Secretary-designate Janet Yellen and Deputy Treasury Secretary-designate Wally Adeyemo held a conversation with top executives at CDFIs and Minority Depository Institutions (MDIs) to discuss issues they're facing because of the COVID-19 pandemic and the roles their organizations play in serving small businesses and individuals in their communities, according to a readout of the call.
Among the participants was Pete Upton, executive director of Grand Island, Neb.-based Native360 Loan Fund Inc., a Native CDFI serving all tribal members in a service area that spans Nebraska, Iowa and southeast South Dakota.
Upton also serves as the chairman of the Native CDFI Network, a Washington, D.C. trade group representing the 70 Native CDFIs working across the country.
"Native360 Loan Fund was one of a few CDFIs who was honored to speak with Janet Yellen," Upton (Ponca Tribe of Nebraska) said in an email to Tribal Business News. "It was great to have a Native voice at the table."
In the call, Yellen discussed the relief bill passed by Congress that includes $9 billion in funding for a new Emergency Capital Investment Program to provide long-term capital for CDFIs and MDIs and make an additional $3 billion investment in the Treasury's CDFI Fund.
Yellen told the financial executives on Monday that she's committed to working with groups like CDFIs and MDIs to get funding out to low- and moderate-income people and minority communities.
While the relief package passed with broad bipartisan support in Congress, President Trump on Tuesday called the legislation's future into question, releasing a video in which he called it "a disgrace" and asked lawmakers to increase direct payments to individuals and take out other "wasteful and unnecessary items" in the bill.
It remained unclear whether Trump's message amounted to a veto threat, although the package passed Congress by a veto-proof majority.
The package included at least $25 million in funding carved out for Native CDFIs, well short of the $100 million in grants and loans requested by the Native CDFI Network in a letter to Congressional officials last week.
In the letter, Native CDFI Network Executive Director Jackson Brossy called the amount "unacceptable" and called on Congress "to ensure Native CDFIs are included in any and all upcoming coronavirus relief packages."
In the call with Yellen, Upton discussed the stagnant allocations through the CDFI Fund's Native American CDFI Assistance Program, which currently stands at $16 million, an increase of just $1 million in five years.
To that end, a 2017 study from the Minneapolis Federal Reserve Bank's Center for Indian Country Development determined an unmet need for $48 million in funding among Native CDFIs.
To that end, the Treasury's CDFI Fund awarded $16.8 million for the 2020 fiscal year to 40 Native CDFIs, although 58 organizations submitted requests for a combined $28 million, as Tribal Business News previously reported.
The Native CDFI Network has called to raise the annual funding for the NACA program to $30 million.
For the last three years, the Trump administration has proposed eliminating funding for CDFIs in the budget it has submitted to Congress, which has opted instead to keep the funding stagnant.
Upton also discussed disparities in New Markets Tax Credit allocations, given that 0.4 percent have gone to Native community development entities.
In the call with financial executives, Yellen and Adeyemo "pledged their commitment to increasing CDFIs and MDIs' small business lending capacity — including capital and technical capacity — so they can continue to expand and grow, and deliver support to those hardest-hit by this crisis, and lift up communities that have been denied access to mainstream banking and lending services."
Want more news about the $130 billion tribal economy?
Tribal Business News publishes thoroughly reported and well-crafted stories about Native businesses and entrepreneurs, growth and expansion strategies, best practices, economic data, government policy and other relevant business news. Tribal Business News is required reading for tribal council members and leaders of Native businesses, as well as state and federal legislators, policymakers, economic developers, entrepreneurs, bankers, lawyers and anyone interested in doing business in Indian Country.
Sign up for our free newsletter to track Native business and the tribal economy. Or sign up for a premium digital subscription ($99/year or $10/month— cancel anytime) to gain full 24/7/365 access to our business news reporting. Megwetch.